TV / Radio
Choose Up Sides
Kids game show
Began as a local program on WCBS-TV (2) NYC in 1953
with Host/Moderator Dean Miller.

Returned on the NBC TV network Saturday mornings 1956
with Host/Moderator Gene Rayburn.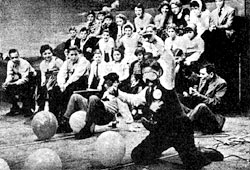 Announcer/The voice Of "Mr. Mischief" (The talking computer
that gives out the instructions for the teams playing the stunts
on the show): Don Pardo.
Captain for the "Bronco Busters": "Capt. Tommy" Tompkins
Captain for the "Space Pilots": "Capt. Roger" Peterson


This was the only kids TV game show that the legendary
producers and creators of adult TV game shows Mark Goodson and Bill Todman ever created and the only kids TV game program that Gene Rayburn ever mc'd on TV.


In the photo, Mr. Rayburn is leading the teams in a zany stunt, where they try to pop balloons while blindfolded. The show was broadcast live from The Hudson Theater in NYC.